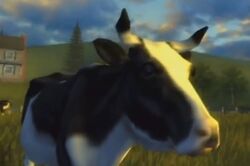 "Surely you don't mean those foul smelling gasbags beyond the fence." -Cryptosporidium 137
"Moo? Primitive, yet profound. Scan another one." -Holopox (Orthopox 13)
Bessie is a cow on Turnipseed Farm. She is the first enemy, first casualty, and the first encounter. Crypto scans her twice, then kills her and the other cows because she pooped in his face. She is mentioned throughout the rest of the game. Apparently, the last of the cows, the Turnipseed Family took her body and made it into steak.
Appearences
Edit
Ad blocker interference detected!
Wikia is a free-to-use site that makes money from advertising. We have a modified experience for viewers using ad blockers

Wikia is not accessible if you've made further modifications. Remove the custom ad blocker rule(s) and the page will load as expected.