The Blue Moon Cinema is a drive-in theater in
Rockwell
. It is a large fenced in area, in the center of the entire town. A small building selling food and a small gazebo also exist by the Cinema. The cost for a movie is 50 cents for adults, and 25 cents for kids.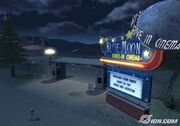 The Cinema plays a big role in the game. A Majestic agent informs Crypto that they are using mind control at the Cinema. Pox then informs Crypto they're going back to Rockwell. Crypto steals a Furon mind control tape and plays it to the crowd.
Ad blocker interference detected!
Wikia is a free-to-use site that makes money from advertising. We have a modified experience for viewers using ad blockers

Wikia is not accessible if you've made further modifications. Remove the custom ad blocker rule(s) and the page will load as expected.