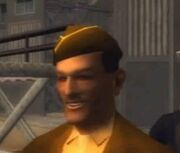 "General Armquist... I thought you'd be too busy running damage control in California."
―Jack
Jack was the Commander of the United States Air Force in 1959, and also a rival of Armquist. He supervised a test of the VZ-9 Aircraft at Area 42, but it failed, much to his dismay. Jack was also seen at the Union Town summit, where he was persuaded against supporting Armquist against Crypto. As overheard by Crypto-137, it is revealed by a scientist that Jack's second name is "Hicks".
Behind the scenes
Edit
He is voiced by Dwight Schultz.
He can be encountered in the Area 42 military base and killed the same as any other civilian.
Ad blocker interference detected!
Wikia is a free-to-use site that makes money from advertising. We have a modified experience for viewers using ad blockers

Wikia is not accessible if you've made further modifications. Remove the custom ad blocker rule(s) and the page will load as expected.