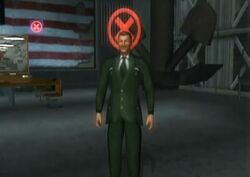 The third of the Joint Chiefs, The Marine General is seen in Area 42 and later in the Union Town Conference. He is encouraged to dismiss Armquist's alien theories and departs with his troops, abandoning his involvement with taking down the "assassin" General Armquist is trying to warn them about.
Behind the scenes
Edit
He is voiced by Brad Abrell.
He can be seen wandering around the military base at Area 42, and can be killed the same as any other civilian.
Ad blocker interference detected!
Wikia is a free-to-use site that makes money from advertising. We have a modified experience for viewers using ad blockers

Wikia is not accessible if you've made further modifications. Remove the custom ad blocker rule(s) and the page will load as expected.