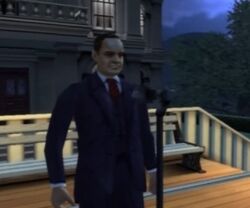 The Mayor of Rockwell was a bald middle-aged man who wore a blue suit, and, by scanning his mind, was revealed to be a cross-dresser. The Mayor was first seen at the Rockwell Fair where he gave a speech. The Mayor escaped when Crypto destroyed the fair with his Saucer. Crypto later holobobed the Mayor and posed as him. The Mayor played no more roles in the game, but was still seen and mentioned. In the Mission, This Island Suburbia, he was seen talking to a Majestic Agent. It was not explained why the Mayor was there, but he had the same appearance and thoughts.
After that, the Mayor was only mentioned. He was mentioned in a newspaper where the headline read: "In other news: Mayor missing." After that, the Mayor was never heard of again and it was not explained what happened to him.
He was based on Mayor Quimby from The Simpsons, who is, in turn, based on President John F. Kennedy.
Even if you killed the Mayor at the Fair, he still appeared after that.
The Mayor's Brain gave you 100 DNA.
He seemed to be a very popular Mayor. A farmer said that he had voted from him twice and other people agreed.