The nuke truck is a type of vehicle that carries a nuclear bomb on it. It's only appearence is Destroy All Humans!, where CryptoSporidium uses it to destroy the Area 42 Airfield, In Which ORTHOPOX Comands CryptoSporidium to get out of the Blast zone before it obliterates the Airfield, Silhouette than Argues With Armquist about the disaster.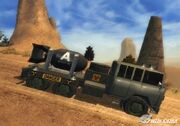 Ad blocker interference detected!
Wikia is a free-to-use site that makes money from advertising. We have a modified experience for viewers using ad blockers

Wikia is not accessible if you've made further modifications. Remove the custom ad blocker rule(s) and the page will load as expected.