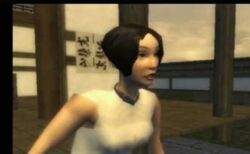 Professor Yuki is an attractive professor who rakes rocks at the Zen Temple.
She is the ex-girlfriend of Dr. Go! and owns a piece of the photograph that has the KGB base password on it. One of the other pieces belongs to the KGB agent who stole her from Go!, Sascha Soychorski.
Crypto visits her at Zen Temple disguised as a White Ninja to receive it. While there, Crypto attempts to reunite her with Go!, there are two alternatives: Crypto reminds her of the good times (reciting haiku) and she is convinced to give it another try, so she tells Crypto to find the photo under one of the rocks in Zen Temple and give it to the Dr; in the other, Crypto has nothing to say, so she sends Crypto to find the photo and give it to Go! as a reminder.
Yuki reappears in an Odd Job where she asks Crypto to depose of Mohgra's eggs in the Volcano. She can also be seen talking to a man near a village at the bottom of the volcano and can be killed, but will re-spawn the next time Crypto visits Takoshima.      
Ad blocker interference detected!
Wikia is a free-to-use site that makes money from advertising. We have a modified experience for viewers using ad blockers

Wikia is not accessible if you've made further modifications. Remove the custom ad blocker rule(s) and the page will load as expected.